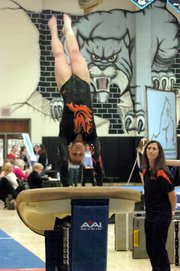 Centreville — Hayfield freshman Molly Overstreet finished in a three-way tie for first place on vault during the individual portion of the VHSL state gymnastics meet on Feb. 16 at Centreville High School.
Overstreet posted a score of 9.8 and shared the state title with Princess Anne's Helaina Dollins and Western Branch's Jamie Stone.
"I knew that I nailed it, but I didn't think they were going to score me that high," Overstreet said. "I was really surprised. I was really happy."
Overstreet finished sixth in the all-around with a total of 37.875. She finished in a third-place tie on bars (9.775) and tied for 20th on floor (9.2) and beam (9.1).
Marshall's Morgan Stahl placed third in the all-around with a total of 38.325 and Woodson's Simone Freidman was fourth (38.1). Freidman tied for second on beam (9.7), tied for fifth on floor (9.525), placed eighth on vault (9.525) and finished tied for 13th on bars (9.35).
Western Branch's Stone won the all-around title (39.1) and Great Bridge's Courtney Adams finished runner-up (39).
One day earlier, Kellam won the team state championship with a score of 148.3. Washington-Lee finished runner-up with a score of 147.2.
More like this story