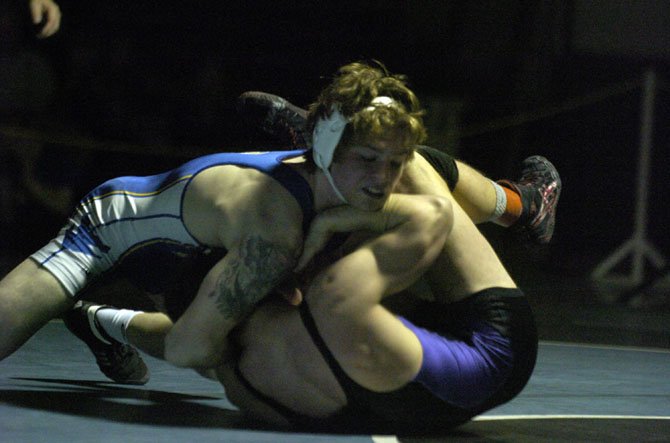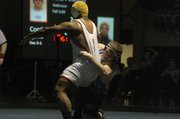 Robinson seniors Jack Bass and Jake Pinkston will finish their high school wrestling careers with a combined eight region championships, but each has unfinished business at the state level.
Bass and Pinkston won their respective matches and the Robinson wrestling team captured its third region title in four seasons during Sunday's 6A North finals at Centreville High School. Bass, a 152-pounder, defeated Battlefield senior Justus Weaver via major decision, 13-5, giving Bass a region title in each of his four years as a high school grappler. While Bass briefly acknowledged the accomplishment, it was clear his sights were set on the state meet, where he finished runner-up each of the last three seasons.
"I feel like this year I've got more of a fire in me to get that state title," Bass said. "I've taken second three times. This is my year. … [Winning four straight regionals] means a lot in the region, but I have such big goals right now that it's just like a stepping stone."
Pinkston also won his fourth consecutive region crown, beating Hayfield heavyweight Cordell Soileau by decision, 4-2. Pinkston lost in the state final as a freshman and sophomore, but captured his first state title last season.
"It means the world," Pinkston said of his four region titles. "I work all winter for this, but the main goal is a state title. I've only got one of those. I want to make it two next week."
The Rams, in dominant fashion, made it three region championships in four seasons. Robinson had nine individuals reach the finals, with seven taking home titles. The Rams posted a team score of 257.5, well ahead of runner-up Battlefield (147.5). Osbourn Park finished third with 136.5 points, followed by Lake Braddock (129.5), Hayfield (128) and Westfield (119).
Mason Rockman (126 pounds), Dane Robbins (138), Zak DePasquale (160), Daniel Mika (170) and Cole DePasquale (182) also won region championships for Robinson.
"This is a pretty special team, great group of kids. They've been together a long time. They have an expectation that they place on themselves and they really competed well."

--- Robinson wrestling coach Bryan Hazard
The Rams will look to make it three state championships in four years when they host the state tournament Feb. 21-22.
"This is a pretty special team, great group of kids," Robinson head coach Bryan Hazard said. "They've been together a long time. They have an expectation that they place on themselves and they really competed well."
South County's Manley Keeps Growing, Winning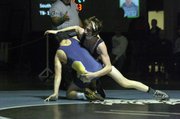 South County's Hunter Manley won his first region championship as a 106-pound sophomore. Two years and 26 pounds later, Manley was at it again.
Manley defeated Robinson's Austin Riggs via 3-2 decision to capture his third consecutive region title --- this one at 132 pounds. As a sophomore, he stood 5 feet 6 and wrestled at 106. He won again as a junior while standing 5 feet 8 and competing at 120 pounds. Now a senior, Manley is 5 feet 11 and said he feels this is his best opportunity to win a state championship.
"[I have] a little more mean on my bones," Manley said. "… I think I'm a little more technical now as a wrestler, a little more aggressive than I used to be."
Manley is a four-time district/conference champion.
Lake Braddock's Wiles, Haskett Win Region Titles
Lake Braddock sophomore Dante Wiles is having a doozy of a first varsity wrestling season.
Wiles won the 106-pound region title Sunday, beating Robinson freshman Sam Book via 10-3 decision. Wiles has hopes of winning a state championship.
"I played baseball all my life," Wiles said. "Coming into seventh grade, my mom said you should try a new sport and wrestling [caught my attention]."
Wiles said his performance at the NOVA Classic in early December gave him confidence.
"I won it," Wiles said, "and it made my goals clear."
Wiles' teammate, Ryan Hackett, won his second consecutive region title, beating Westfield's Gabe Ryan via 4-3 decision in the 120-pound division.
"Honestly, it was a bit tougher from a nerves perspective," Haskett said, "because as the defending champ, you have a lot of pressure on you to win again."