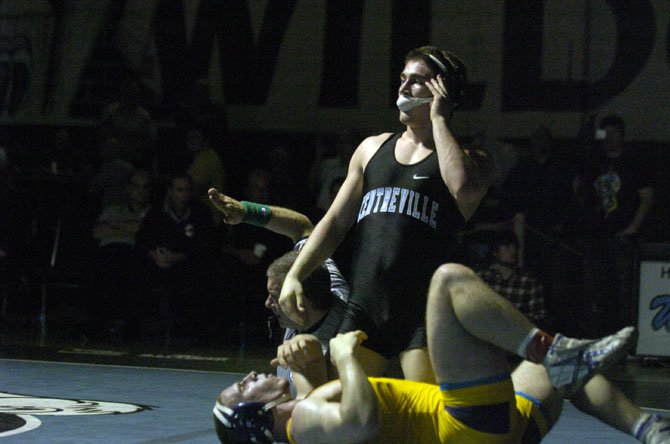 Centreville junior Tyler Love put on a show for Wildcat fans during the 6A North region wrestling meet.
Love won the 195-pound region championship on Feb. 16 at Centreville High School, pinning Lake Braddock's Ian Reilly 3 minutes, 28 seconds into the match. Love, who is committed to the University of Virginia, pinned each of his four opponents during the two-day event and was named Most Outstanding Wrestler.
"All my friends got to come here and cheer me on," Love said. "All my football coaches were here running it. It was pretty sweet."
During the fall, Love was a linebacker on the Centreville football team that went undefeated and captured the 6A state championship. Love will have an opportunity to win a state championship in a second sport when he competes at the state wrestling meet Feb. 21-22 at Robinson Secondary School.
What is the difference between competing in a team sport like football and an individual sport like wrestling?
"I would say wrestling is less pressure because that's only you," Love said. "If you're playing football, if you miss a tackle, you let down your team. I like the whole individual aspect because if you mess up or you do great, it's all on you."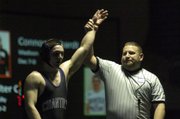 Walter Carlson, Chantilly's all-time wins leader, captured the 145-pound championship, beating Madison senior Connor Eckhardt via 10-4 decision in the final. Carlson credited his success to offseason work.
"In the offseason is where you can pass people," he said. "Everyone works hard during the season, so it's the offseason [that makes a difference]."
Westfield had three grapplers reach the finals, but each fell short. Senior Gabe Ryan finished runner-up in the 120-pound bracket, losing to Lake Braddock's Ryan Haskett via 4-3 decision. Junior Justin Yorkdale finished runner-up at 126 pounds, losing to Robinson's Mason Rockman via 3-2 decision. Sophomore Jay Aiello placed second at 170 pounds, losing to Robinson's Daniel Mika by 9-4 decision.
Robinson won its third team title in four seasons. The Rams had nine grapplers reach the finals, with seven winning championships. Robinson scored 257.5 points, followed by Battlefield (147.5), Osbourn Park (136.5), Lake Braddock (129.5) and Hayfield (128).
Westfield finished sixth with 119 points, followed by Centreville and Chantilly, which tied for seventh with 89 points.
More like this story