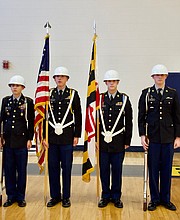 Brian Bunting attended Bullis School in Potomac from sixth through 12th grade.
He competed on the school's football, lacrosse and wrestling teams. He was a state wrestling champion and president of his class.
After graduation in 1998, he attended the United States Military Academy, served in the U.S. Army, married and had a son.
On Feb. 24, 2009, Captain Bunting, known to family and friends as "Bubba," was killed by a roadside bomb while serving in Afghanistan, just months before his wife Nikki gave birth to their second son.
Last weekend, Bullis School held the third annual Captain Brian Matthew "Bubba" Bunting Memorial Dual Meet Wrestling Tournament to honor Bubba and his family. Ten teams from schools throughout Maryland and D.C. participated in the day-long event.
"They are a beloved family, I felt like it was the right thing to do," said Bullis wrestling coach and tournament organizer Chris Brown.
The Bunting family has deep roots at the school, Brown said. Bubba's mother worked as secretary in the upper school and his father, Robert Bunting, Sr., was head of facilities.
"Five of my children graduated from Bullis," Robert Bunting said.
Nikki Bunting, too, graduated from Bullis though, she said, she and Bubba were not high school sweethearts.
They met when she was in sixth grade, she said, but were just friends. Years later, when he was home on military leave and she from college, they met again while out with mutual friends.
The rest was history, she said.
Nikki Bunting and her sons Connor, 10, and Cooper, 8, along with other family members were at the tournament Saturday, Jan. 27, for the opening ceremony which included the presentation of colors by members of the Magruder High School Junior ROTC, the National Anthem by Bullis Chamber Singers and "America the Beautiful" by the Magruder Choir.
Members of the Bullis Middle School wrestling team read a tribute to "Bubba" Bunting and the school's Boy's Athletic Director Andres Parra, class of 1999, spoke of his memories of Bubba as a Bullis student.
"This is a great way to share [Bubba's] legacy," Nikki Bunting said. "He has quite a legacy at Bullis."
Steve Lilly, retired military and a referee at the tournament Saturday, said he did not know the tournament was in honor of a veteran until he arrived, but was moved by the sentiment, greeting family members and wishing them well.
"I'm honored that they are having this tournament," Lilly said.
Nikki Bunting said she feels the same.
"We look forward to it every year," she said.