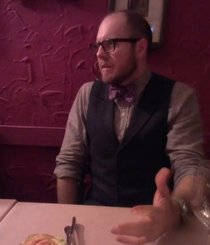 Tim began his print journalism career writing for his high school newspaper — the Hayfield Orange Peal. A few years later, he picked up in the Netherlands as a copy editor and writer for Time Out Amsterdam magazine. He moved back to the United States in 2012 and began reporting for The Connection in January 2013 as a freelancer. Now on the staff, Tim covers Burke, Fairfax Station, Lorton, Clifton, Springfield and Mount Vernon. He has a bachelor's degree from Northwestern University in political science and cultural-linguistic anthropology, and recently attended the Salt Institute for Documentary Studies in Portland, ME.
Follow Tim on Twitter at @PetersonTimJ
Recent Stories
Temporary restraining order to not release name vacated by judge.
Fairfax County chief of police Edwin Roessler has yet to release the name of the 16-year veteran officer who fatally shot Mohammad Azim Doudzai, 32, at his Herndon-area home on Jan. 16 this year.

Northern Virginia Swimming League holds individual championships
Olympic swimming started with an expected bang in its opening weekend in Río, with Katie Ledecky and the men's four by 100 freestyle relay, that included Michael Phelps in the second leg, captured gold medals for Team USA.
Springfield's Ginny Thrasher wins Olympic gold in air rifle.
Before she left for the Río Olympics, 19-year-old sharpshooter Ginny Thrasher of Springfield was just looking to get experience in her first games. "I was looking more towards 2020 as a realistic option," she had said.