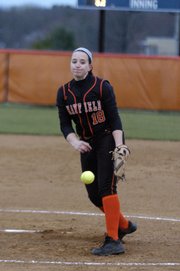 Alexandria — Early last season, Hayfield's Taylor Neuhart and Bonnie Schipper struggled to get on the same page.
Neuhart was a standout pitcher and a perfectionist who played travel ball for the Vienna Stars. Schipper was a freshman catcher who moved to the Hayfield district shortly before the school year. She played a lower level of travel softball than Neuhart.
"We had some difficulties," Schipper said, "getting along with how we play …"
The two eventually smoothed things over and the Hawks won their second National District championship in three years. This year, Neuhart and Schipper once again comprise the Hayfield softball battery. Neuhart is a senior who is signed to play softball at Lipscomb University. Schipper is a sophomore who figured out how to work --- and eventually become friends --- with the star pitcher. Together, they've helped the Hawks get off to a 12-0 start, during which Hayfield as outscored its opponents 117-4.
"[Schipper is] great," Neuhart said. "Last year, [when she was] a freshman, we definitely struggled at first, but now she's like my younger sister. I go to her house and we pretend commentate on college softball."
Neuhart has been dominant in the pitcher's circle. Through the first eight games of the season, the right-hander produced a 0.39 ERA and 106 strikeouts. She had one no-hitter, one one-hitter and four two-hitters.
THAT SUCCESS continued on April 4, when Neuhart threw a one-hit shutout during a 7-0 win against defending Concorde District champion Chantilly at Hayfield Secondary School. Neuhart struck out nine and walked two. The Chargers had just one runner reach third base.
"She works hard at what she does," Hayfield coach Ron Giovannucci said. "She's got so many different pitches. Sometimes when you've got a pitcher and you've got a two-strike count, you want to throw a waste pitch. We don't do that with her. She comes right at you."
"We're playing great. The best thing about it is we're kind of proving ourselves to everyone in the district and the region."

--- Hayfield senior Taylor Neuhart
At the plate, Schipper finished 2-for-4 with four RBIs. She broke a scoreless tie in the bottom of the third inning when she delivered a two-run double with one out and the bases loaded.
"[Neuhart and Schipper] seem to get along really well together," Giovannucci said. "They even go away from practice [and] do things together just so they can bond together, which is good."
How did Schipper and Neuhart end up getting along?
"[Pitchers are] the diva of the field," Schipper said. "I guess I just had to understand what she's like and try to work with her and then I just realized she's just Taylor Neuhart, she walks on water."
Is that sarcasm?
"No, not at all," Schipper said. "She's incredible. She's an amazing pitcher and she's a pretty cool person."
Giovannucci said he likes to keep his pitcher happy.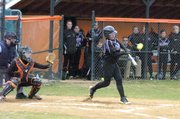 "Taylor is a perfectionist," he said. "… She's got to have certain things a certain way, which is good. My philosophy is you make the pitcher happy. Pitching makes a successful team and whatever she wants, she gets. Not to say she's spoiled or anything but … she's a perfectionist."
After beating Chantilly, Neuhart threw a perfect game during a 10-0 victory against Edison on April 5. Hayfield defeated Falls Church 10-0 on Monday and beat Stuart 21-0 on Tuesday.
PART OF WHAT DRIVES the Hawks is the desire to prove their dominance is more than a product of playing in the National District, which is generally considered the weakest of the four districts in the Northern Region.
"We're playing great," Neuhart said after beating Chantilly. "The best thing about it is we're kind of proving ourselves to everyone in the district and the region. We've been doing great and it's a lot of fun. … Beating teams like Chantilly --- and we also had a win against Herndon earlier in the season --- those are huge. It's kind of proving to everyone else, yeah we can hang with the big dogs."
Giovannucci said he expected production from Neuhart, senior center fielder Katelyn Thorne and senior shortstop Taryn McElhenny from the start of the season, but athletes like Schipper, senior utility player Brittani Garza and sophomore first baseman Madison Nowland have stepped up, as well.
"Going into the season," the coach said, "I knew we had a good pitcher and three impact players … [but] the big plus so far has been the other kids are hitting the ball."
Hayfield will host Washington-Lee at 6 p.m. on Tuesday, April 16.