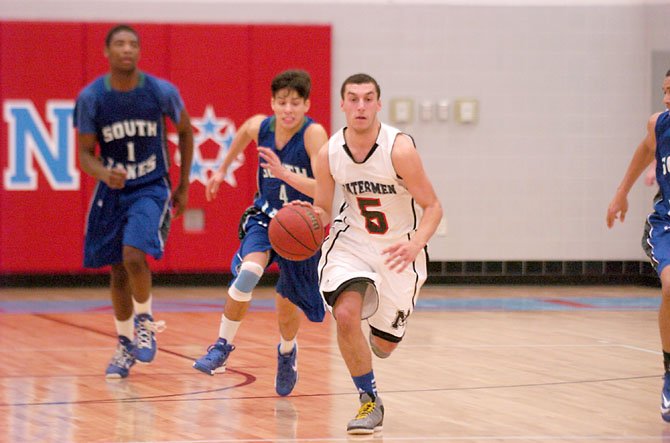 Falls Church — Grant Leibow moved up from the JV to join the Marshall varsity boys' basketball team near the end of his sophomore season, becoming part of a group that finished the 2010-11 campaign with a 3-20 record and a first-round exit in the Liberty District tournament.
The following year, Leibow played his entire junior season with the varsity, during which the Statesmen went 7-15 and again lost in the first round of districts. In two seasons under head coach Dan Hale, Marshall managed a 2-28 record against Liberty District opponents.
"We've been through tough times," Leibow said recently.
Now a senior, Leibow is a key member of a Marshall team that has evolved from district doormat to second place in the standings. Hard work in the off season set the transition in motion. On Friday, the Statesmen displayed the other key component of their turnaround: sharing the basketball.
"This is a group that has been very tight and has worked together and they work really hard and it's paying off."

—Marshall boys' basketball coach Dan Hale
SIX MARSHALL PLAYERS scored at least eight points and the Statesmen defeated South Lakes 65-46 on Feb. 1 at Marshall High School. On Monday, Marshall lost to Langley 39-38 but remained alone in second place in the Liberty District standings with one game remaining. The Statesmen, who are 13-7 overall and 8-5 in the district, are assured of a home game in the first round of the district tournament.
Leibow, a 6-foot-1 guard, led the way with 16 points against South Lakes. His third 3-pointer of the evening gave the Statesmen a 34-26 lead with 5:07 remaining in the third quarter and sparked a 13-4 Marshall run.
"He's our leader, he's the guy we want [with] the ball in his hand facilitating," Hale said. "… He's one of those guys that really worked hard."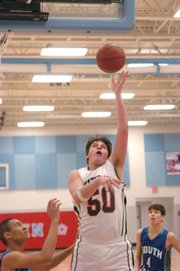 Junior forward Towner Hale scored 13 points for Marshall. Freshman center Tyler White finished with 11 points, senior forward Doug Turpin scored nine, and senior guard Connor Barrand and junior guard Christian Cameron each added eight.
"I think our teamwork and our togetherness have really helped us," Leibow said. "It seems like when we pass the ball we play better [and] that's what happened tonight."
Dan Hale, who coached in Hawaii prior to taking over at Marshall in 2010, credited his players' work ethic for helping the program improve. Marshall's 13 victories this season are more than the previous two seasons combined (10).
"This is a group of guys that really kind of committed themselves to doing all the hard work in the off season," Hale said. "We always preach that it's the off season that is the [time] you've got to work hard. There's not enough time in the season to really improve your game. … This is a group that has been very tight and has worked together and they work really hard and it's paying off."
While Leibow (three 3-pointers) and Cameron (two 3s) shot the ball well from behind the arc, White provided offense in the paint. The 6-foot-4, 250-pound freshman scored with post moves and had a key fourth-quarter tip-in that started a 17-3 run.
"He's adjusted to the varsity game—that's not an easy thing to do as a freshman," Hale said. "He's definitely looking nice and comfortable out there and he had some big plays tonight."
White said opponents at times will get physical with him and engage in trash talk. He tries to block it out, but sometimes he "just [gets] more angry, [gets] more physical."
"He's been able to push a few guys around down low when we need him against teams with bigger guys," Leibow said. "That's something we haven't had in quite a few years."
MARSHALL WILL CLOSE the regular season with a road game against Thomas Jefferson at 7:30 p.m. on Friday, Feb. 8, before entering the district tournament.