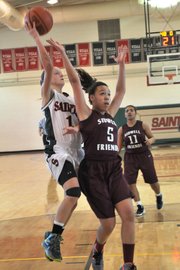 Alexandria — Midway through the fourth quarter of a tightly-contested home game against Sidwell Friends, St. Stephen's & St. Agnes guard Lizzie Zulauf's head slammed against the court, forcing the senior to the bench for precautionary concussion testing.
With the Saints' leading scorer sidelined, Sidwell Friends scored eight straight points to take control of the game. Facing a double-digit deficit in the closing minutes, Zulauf re-entered the game and continued battling, knocking down a late jumper to finish with 19 points.
The St. Stephen's & St. Agnes girls' basketball team entered Saturday's contest against the Sidwell Friends Quakers with a lack of height and multiple banged-up or injured players. The Saints also entered the contest with a winning record despite the loss of 6-foot standout Dhyamond Crenshaw, who averaged 22.9 points per game for St. Stephen's last year before transferring back to Robinson, and moving up to the ISL AA division. After losing to Sidwell Friends, 53-44, on Jan. 19 and Holy Child, 45-33, on Jan. 22, the Saints still had a 9-7 record. At one point, St. Stephen's was 8-3.
"One of the things that we worked on a lot last year was trying to make sure that we were a team," SSSAS head coach Calvin Crenshaw said after the Sidwell Friends game. "Whether Dhyamond was playing or not, we wanted to make sure we were a team. I think that has rubbed off to this year where all the kids are playing well. … We just have kids stepping up and doing their part."
"Everybody can sit back and say, 'What if?' What if we didn't have any injuries? What if Dhyamond was still here? We can all sit back and say 'What if?' But this is what we have and I'm very appreciative of these kids. These kids are working their butts off. We're undersized, undermanned and they just keep playing hard."

— SSSAS girls' basketball coach Calvin Crenshaw
Against Sidwell, St. Stephen's held a 41-36 lead after three quarters before being outscored 17-3 in the fourth. Zulauf finished with a team-high 19 points and made a trio of 3-pointers. According to stats from the Washington Post's Web site, Zulauf is the team's leading scorer at more than 14 points per game.
Coach Crenshaw said Zulauf had the talent to be a primary scorer last season, but played timidly. This year, however, she has stepped up to fill the void left by Dhyamond Crenshaw.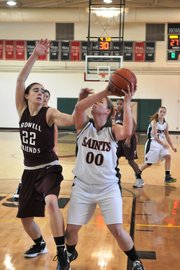 "She was our main scorer, so I just felt I needed to step up and help my team out," Zulauf said. "I definitely try to make sure the offense is running smoothly. I've been getting better at taking the open shot. Last year, I would be looking for Dhyamond all the time, but now I've been getting better at taking shots."
Sophomore guard Priscilla Badu-Sekyere scored 16 points against Sidwell Friends. Senior 5-foot-8 post Alexis Sargent grabbed 10 rebounds.
"We never gave up," Sargent said of the Saints' approach this season. "It would be easy to fold after losing a star like Dhyamond, but Lizzie really stepped up and she took a leadership position — a quiet leadership position — but she really shows us that we can't give up and we keep fighting. …
"I've just got to keep fighting and stay strong and keep a positive attitude. God gave me the height I have and I can use what I have to my advantage and just look for my teammates who are always going to have my back and kick it back out for the 3 to Lizzie. … Priscilla also drives to the basket all the time. She's fearless going against those bigs."
St. Stephen's & St. Agnes will host Flint Hill at 6 p.m. on Friday, Jan. 25.
"Everybody can sit back and say, 'What if?'" Crenshaw said. "What if we didn't have any injuries? What if Dhyamond was still here? We can all sit back and say 'What if?' But this is what we have and I'm very appreciative of these kids. These kids are working their butts off. We're undersized, undermanned and they just keep playing hard."