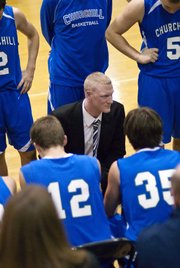 Matt Miller guided the Churchill boys' basketball program to its first region championship game appearance in more than three decades.
Now he's looking for a new challenge.
Miller on Sept. 12 resigned as Churchill head coach to take a job as the top assistant coach at Shepherd University in Shepherdstown, W.Va. Miller, 30, has previous college coaching experience at St. Mary's College of Maryland and Marymount University.
Miller, who played basketball at Gonzaga College High School in Washington, D.C., and St. Mary's College of Maryland, said he is looking forward to recruiting in the Washington, D.C./Maryland/Virginia area.
"We've had some great years at Churchill," Miller said. "I've coached some excellent kids [and] I just [figured after] five years of great times and success, maybe this was a good time for me to try another challenge. … I'm not getting any younger at this point."
During five seasons at Churchill, Miller led the Bulldogs to three consecutive division championships from 2011-2013 and a berth in the 2012 4A West Region championship game — Churchill's first region final appearance in 33 years. The Bulldogs reached the region semifinals in 2011 and 2013.
"I'm most proud of our ability to put together an excellent staff every single year and an excellent group of kids and really bring the community together," Miller said. "… [We had] little kids [ages] 4 to 14 coming to our games excited to be a Bulldog."