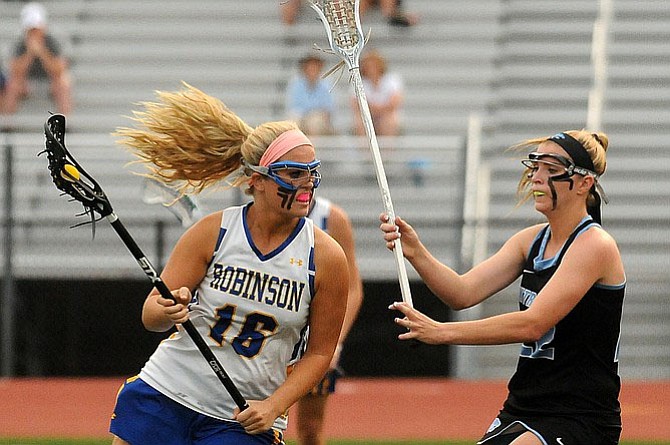 Caroline Wakefield spent four seasons on the Centreville varsity girls' lacrosse team and earned the opportunity to play in college at the University of North Carolina.
By the end of her high school career, Wakefield had become one of the best players in the country.
Wakefield finished with 81 goals, 42 assists, 39 caused turnovers, 67 ground balls and 93 draw controls in 2015, leading the Wildcats to the 6A state semifinals. She was a US Lacrosse first-team All-American, and on July 3 played in the Under Armour All-America game in Towson, Md., helping the South team to a 14-12 victory.
Wakefield, a 2015 Centreville High School graduate, recently took part in a Q&A via email.
Connection: You'll be playing lacrosse at the University of North Carolina next season. What made UNC the right choice for you?
Wakefield: It is a highly competitive school, I knew I would get a good education, I fell in love with the campus, it felt like home, and the colors were an easy transition [from Centreville], but the team chemistry was what I liked. Loved the coach and it wasn't too far from home.
Connection: What position(s) will you play?
Wakefield: I will play be playing midfield and [defense], or maybe a D
Connection: What are you most looking forward to about going to college?
Wakefield: Having the opportunity to compete with the top-notch players and making connections and friends that will last a lifetime. Looking forward to the challenges that await me.
Connection: How was the experience of playing in the Under Armour All-America game?
Wakefield: It was definitely an experience of a lifetime. The talent that I was surrounded by was exceptional. I got to play with some of my buddies from former teams and future UNC teammates.
Connection: At what age did you start playing lacrosse?
Wakefield: I was 8 when I started to pick up a lacrosse stick.
Connection: When did you realize playing college lacrosse was an option for you?
Wakefield: About seventh or eighth grade. I played for M&D [Lacrosse Club], a top notch lacrosse program out of Columbia, Md., and our team competed up and down the East Coast, winning many tournaments. But I knew I wanted to play a sport in college, so I was determined to do so.
Connection: You were also a standout basketball player at Centreville. At what age did you make the decision lacrosse would be your primary sport?
Wakefield: Ninth grade, when I started to get offers for lacrosse. I decided I would have to focus on one to really get the best offer I could get. But I love basketball, so it was a difficult decision, but I'm glad I got to play my high school seasons.
Connection: What is your favorite memory of playing lacrosse at Centreville?
Wakefield: Beating Oakton my freshman year by one goal while playing three men down. Also, getting to play on the same team as my cousin Reagan [Newell].
Connection: What do you like to do when you're not playing a sport?
Wakefield: [I] love hanging out with my family and friends. [I like to] fish, hike, work out, shop and just relax.
Connection: Are you a pro sports fan? Which team(s) do you root for?
Wakefield: I usually pull for the local teams: Redskins, Nats, Caps.
Connection: What location is the farthest you've traveled from the Washington, D.C metro area?
Wakefield: Cozumel, Mexico
Connection: What's your favorite food?
Wakefield: I am a steak person, but I also love my Grammy's potatoes.
Connection: Who is your favorite music artist? Why?
Wakefield: I do not have one. I listen to almost everything except jazz and classical.
Connection: What is your favorite movie? Why?
Wakefield: "Step Brothers." I love Will Ferrell and it is just a dumb fun movie. :)