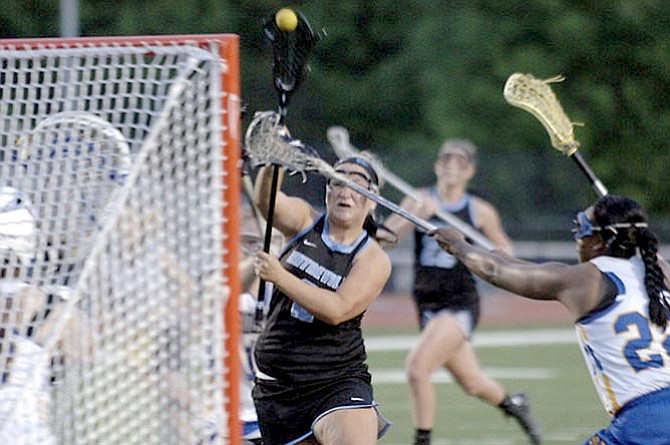 Reagan Newell received the 6A North region's top offensive honor in 2015.
In her fourth season as a member of the Centreville girls' varsity lacrosse team, Newell totaled 96 goals and 51 assists, earning region Offensive Player of the Year honors along the way.
Newell, who was also a US Lacrosse All-American, teamed with her cousin, Under Armour All-American Caroline Wakefield, to lead Centreville to a 15-4 record and a trip to the state semifinals.
Newell, a 2015 Centreville High School graduate, will continue her lacrosse career at James Madison University. The Dukes compete at the Division I level in the Colonial Athletic Association.
Newell recently participated in a Q&A via email.
Connection: You'll be playing lacrosse at James Madison University next season. What made JMU the right choice for you?
Newell: I chose JMU because it felt like the perfect fit. JMU has great academics, along with a top­notch lacrosse program. The campus is awesome and it's not too far away from home so my family can watch me play.
Connection: What position(s) will you play?
Newell: I will play attack.
Connection: What are you most looking forward to about going to college?
Newell: I'm looking forward to competing with a lot of talented girls and I'm also looking forward to being challenged.
Connection: At what age did you start playing lacrosse?
Newell: I started playing lacrosse when I was 7.
Connection: When did you realize playing college lacrosse was an option for you?
Newell: In about sixth grade I realized I wanted to play in college.
Connection: What is your favorite memory of playing lacrosse at Centreville?
Newell: My favorite memory would be beating Oakton my freshman year by one goal playing three men down. Also, getting to play with my cousin for all four years.
Connection: Your cousin Caroline Wakefield was also a standout on the Centreville varsity. How would you describe your chemistry on the field?
Newell: Well, I've actually never been on a sports team without her so our chemistry has been building forever. She knows all of my moves and I know all of hers. If I make a cut I know she is going to get me the ball no matter what. It's kinda scary how well we know each other.
Connection: Do you have a specific game day routine?
Newell: Yes, every game day I take a nap right after school and eat Subway before the game. I also drink my "special" drink right before the game.
Connection: What is in your "special" drink?
Newell: It's powder you put in water that has vitamins. It helps me get focused and hydrated.
Connection: Looking back, if you could change one thing about your high school lacrosse career, what would it be?
Newell: If I could change one thing, it would be to have won a championship.
Connection: You're sitting around playing a board game with family/friends. Do you play to have fun or play to win?
Newell: I play to win. I'm very competitive and like to win at anything I do.
Connection: What do you like to do when you're not playing a sport?
Newell: I like to be with my friends/family and go to our lake house at Lake Anna.
Connection: Are you a pro sports fan? Which team(s) do you root for?
Newell: I'm a huge Washington sports fan, so the Redskins, Caps, Nats, and Wizards.
Connection: What location is the farthest you've traveled from the Washington, D.C metro area?
Newell: Cozumel, Mexico.
Connection: What's your favorite food?
Newell: My favorite food is filet.
Connection: Who is your favorite music artist? Why?
Newell: I don't really have a favorite artist, I can listen to anything. I love music.
Connection: What is your favorite movie? Why?
Newell: My favorite movie is "Remember The Titans," because I love football and it's a classic football movie. It also reminds me of my dad, because he is a football coach.