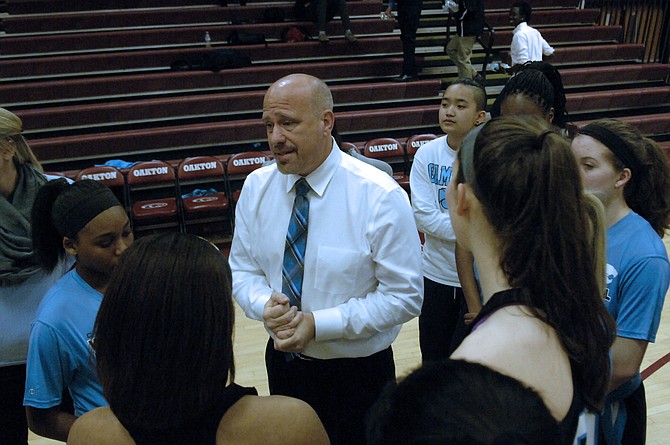 Centreville girls' basketball coach Tom Watson was angry.
He let his displeasure with officials be known during Monday's Conference 5 contest at Oakton, and after the game he initially declined an interview request.
Watson eventually shared what was on his mind following a 47-34 loss to the defending 6A North region champion Cougars, who improved to 17-0.
Centreville led 20-13 at halftime, but Oakton outscored the Wildcats 17-7 in the third quarter and took a 30-27 lead into the fourth. The Cougars led for the remainder of the contest and the Wildcats' record dropped to 8-7.
"We had a good game plan," Watson said. "We spent time, I came and scouted them, we had a game plan that shut down their best players, we did, until the second half, until the refs --- you can write this down --- the refs made [Oakton forward] Maddie Royle an all-star. Anything we did, any time we got near her, we get a call. It's frustrating."
Royle, a 6-foot-1 junior, had two points at halftime and did not attempt a free throw in the first half. The Oakton forward scored 14 points in the second half and went 10-for-10 at the foul line, finishing with a game-high 16 points.
Oakton attempted two free throws in the first half, making them both. The Cougars shot 17-for-19 at the line in the second half, finishing 19-for-21.
Both head coaches were vocal with officials during the game.
"You saw a dramatic shift when [Oakton head coach] Fred [Priester] complained," Watson said. "Just call it even. … [The officials] just bailed [Oakton] out. There's nothing else to say. Our kids are here participating just as hard as they are. The referees should be equal."
While Oakton saw a significant increase in free-throw attempts in the second half, Centreville still attempted more foul shots during the game. The Wildcats shot 10-for-22 from the foul line and held an 11-2 advantage in free-throw attempts in the first half.
While Centreville fell short, the Wildcats were within one point of Oakton early in the fourth quarter thanks in part to the performance of freshmen Ashley Martin and Aleigh Gambone. The ninth-grade duo showed no fear attacking the basket against Oakton's older, taller players.
Martin finished with a team-high 12 points, but shot 2-for-6 from the foul line. Gambone had nine points and went 1-for-2 from the line.
Martin and Gambone both started for Centreville, along with juniors Camryn Conklin and Anna Yee, and sophomore post Callie Doyle.
Yee finished with six points and Conklin had four.
Doyle scored three points and grabbed six rebounds, but fouled out with 5 minutes remaining and Centreville trailing 34-29.
"We're scrappy and most teams aren't as scrappy as we are," Watson said. "We don't have the big post. If I had one more big post we would be that undefeated team, too. Counting on Doyle having to do all the work, it's hard. … I think that Doyle did a great job. I think she's … underappreciated. She runs our team. She's our heart and soul and for her to foul out off of the last two fouls, that was a tragedy for us."
Centreville will host Robinson at 6 p.m. on Friday, Feb. 5
"We worked for two weeks for this Oakton game because I really wanted to beat them," Watson said. "I thought we'd have a chance to beat them."