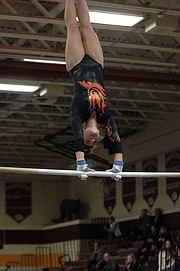 Molly Overstreet's back pain was severe enough that the two-time state champion didn't know if she would compete during her senior season.
Overstreet, who won a state vault championship as a freshman and captured the state bars title with a VHSL record score of 9.925 as a sophomore, endured constant back pain caused by a long career in gymnastics. As a junior, she continued to battle and managed to win a region title on bars and qualify for states in the all-around. After states on March 8, however, she decided to take a rest.
A lengthy rest.
"She landed ... whatever her last routine at state was and didn't do any gymnastics until November," said Hayfield assistant coach Kristin Overstreet, Molly's mom.
Overstreet was a member of the Hayfield cheer team in the fall. After roughly eight months away from gymnastics, she had a choice to make.
"Originally, right when cheer ended, she said, 'I'm not doing it, I'm not doing it, I'm not doing it,'" Kristin Overstreet said. "I let her say that for a while, but then it just went back to it's her senior year, it's her last year, it's her last opportunity [and] we're going to have a good team this year ..."
Overstreet decided to return to the gymnastics team this year, and so far, it's been an enjoyable decision.
"I realized it's my senior year," she said, "why not do [gymnastics] one last time?"
Competing in their first meet of the season on Nov. 30 at Mount Vernon High School, the Hawks won as a team for the first time in the program's five-year history.
Hayfield gymnasts let out joyous screams when the results were announced. Head coach Shelly Pennow cried and texted her family. The accomplishment was announced over the loudspeaker at school.
"It was awesome," Molly Overstreet said.
On Jan. 9, Hayfield competed at a four-team meet at Oakton High School. The Hawks finished third with a score of 134.4, falling 1.2 points shy of second-place Oakton. Yorktown won the event with a score of 144.2.
Unlike previous years, Overstreet isn't the only Hayfield gymnast experiencing success.
"It's been good for overall team confidence," Pennow said. "It gives the less-experienced girls something to strive for. It gives them all a little bit more confidence and they're really pushing each other because they can see they have an actual shot at doing really well at conference as a team and it's not just about Molly this year."
Overstreet finished second in the all-around on Saturday with a total of 37.2, one-tenth of a point behind Yorktown freshman Julia Hays. Overstreet won the bars competition with a score of 9.75, and placed second on beam (9.3) and third on floor (9.4) and vault (8.75).
"She's not there yet but I feel like she's getting there, maybe even a little bit quicker than last year," Kristin Overstreet said. "She's got a little bit of a fire in her."
Hayfield's Jessica Combs finished seventh in the all-around (34.15), Raquel Pauly took ninth (33.05) and Rachel Wake finished 11th (28).
Combs tied for second on beam (9.3) and finished sixth on vault (8.6).
Hayfield will compete in a meet at Mount Vernon at 6:30 p.m. on Thursday, Jan. 21. The Conference 6 meet is scheduled for 6 p.m. on Feb. 5 at Washington-Lee.
More like this story