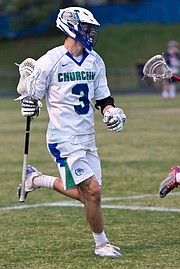 The stage was set for the Winston Churchill Bulldogs Saturday afternoon to return to the state championship game just one year removed from finishing as the runner-up.
On a cold and rainy day at John Harvill Stadium in Gaithersburg, the Bulldogs were unable to overcome an early 5-1 deficit and ended up falling 10-5 to the Severna Park Falcons.
"We'll be back," said junior attacker Spencer Knife as he walked off the field following the loss. That seemed to be the theme from Churchill after the game: they'll be back.
"We're returning a good core group of guys next year," said head coach Jeff Fritz after his 23rd year with the Bulldogs came to an end. "Our motto is not to rebuild, but to reload. We have a lot of young guys returning and a lot of young guys stepping up so we'll be back next year."
Early on, the Bulldogs had trouble controlling the ball, as Severna Park had possession nearly the entire first quarter. The first quarter ended up scoreless, partially because of the play by senior goalkeeper Markus Hurd.
"I thought [Hurd] played very well," said Fritz. "I thought he played well enough to give us a chance to win."
Early in the second quarter a Severna Park goal by Drew Betch was answered quickly by sophomore Reed Moshyedi from Churchill just three minutes in. From then on, Severna Park started to pull away.
The Falcons added three more goals before halftime to make the score 4-1. For the Falcons, it was junior attacker Steven Zichelli who hurt the Bulldogs all afternoon as he tallied five goals while adding one assist.
"We beat up on ourselves on the defensive end and we couldn't field the ball," Fritz said, "and you can't score or get in a rhythm without the ball."
One bright spot for Churchill was senior faceoff man Austin LaBorwit, who went 19 for 19 in the faceoff circle Saturday. LaBorwit is the school's all-time leader in faceoff wins with 559.
"[LaBorwit] won every faceoff and gave us a chance, but the turnovers killed us," Fritz added.
Second half started with a Falcon goal, and then Knife was able to add back-to-back goals to seemingly give the Bulldogs momentum and make the score 5-3 midway through the third quarter. But momentum seemed to fade once a penalty was called on Churchill, followed by another penalty in the dying seconds of the third quarter called on senior Christian Edwards, giving Severna Park a two-man advantage to start the fourth.
Zichelli added one of his goals on the man advantage and then the Falcons added two more, one of which was a fortunate bounce that was picked up right in front of the net, to push the lead to 8-3 with just five minutes left.
Each team was able to add two more goals each to make the final score 10-5. Churchill won its fourth regional title in the last five years this year. Many players will be continuing their careers in college including Christian Edwards (Syracuse), and LaBorwit (Trinity College).
"We just picked a really bad day to play a really poor game," said Fritz. "I'm really proud of what our team has accomplished here, but I don't want one bad day to ruin the fantastic season we had. They played their tails off all year."