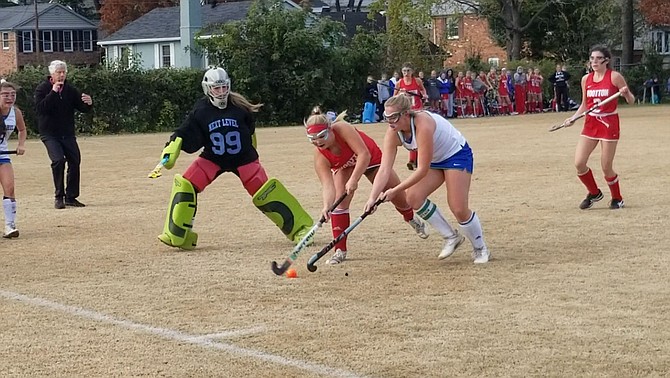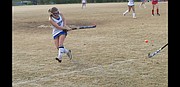 For nearly 80 minutes, a pair of field hockey rivals struggled to move the ball on the slow-playing grass surface at Churchill High School, with both teams failing to capitalize on limited scoring opportunities.
Then, with Churchill and Wootton less than 2 minutes away from having their seasons decided by a shootout — Churchill head coach Cay Miller was already deciding on a shootout lineup — the Bulldogs executed in familiar fashion to earn a return trip to the 4A South region championship game.
Churchill senior captain Alex Sperling scored the game-winning goal with less than 2 minutes remaining in the second overtime period and the Bulldogs defeated the Patriots 1-0 in the 4A South semifinals on Oct. 29 in Potomac.
Junior captain Lucia Alem dribbled along the endline and crossed the ball in front of the goal — something Churchill has been working on in practice. Sperling was there to finish the job, with her goal earning Churchill a third consecutive trip to the 4A South final.
The Bulldogs will take on Walter Johnson for the region championship at 5 p.m. on Wednesday, Oct. 31 at Walter Johnson High School, the game's pre-determined site. As the higher seed, Churchill will be considered the home team.
"I saw an opportunity," Alem said. "I saw players looking to see where the ball was. I saw an opening."
Sperling was there to capitalize.
"We have been practicing passing the ball from endline to stroke," Sperling said. "I sprinted over there and when the ball came I said, 'Oh my God.'"
Scoring chances were at a premium on Monday, as both teams had difficulty advancing the ball on the grass surface. During the teams' regular season meeting on Oct. 8 on Wootton's turf field, each side scored a pair of goals in regulation before the Bulldogs won in a shootout.
In Monday's playoff game, Churchill held a 7-2 advantage in penalty corners. Wootton did not earn a corner in the second half or overtime.
On turf, players hit the ball and "hope to see where it goes," Alem said. "Here, you have to look for bounces. It's more about control and more of a skill game."
Wednesday's region championship game will be played on turf at Walter Johnson High School.
Monday's victory was the latest in a successful three-year run for Churchill. The Bulldogs have won each of the last two region championships, and in 2016 they advanced to the state final.
The victory over Wootton improved Churchill's 2018 record to 13-1. The Bulldogs' lone defeat came against Blake, a 3-1 loss in the regular season finale on Oct. 18. Prior to falling to Blake, Churchill had not lost a regular season game since 2015. However, the loss, Miller agreed, could be beneficial for the Bulldogs.
"We had a regular season streak and put unnecessary pressure on ourselves," Miller said. "It's a relief to start fresh, with no expectations from previous teams."
If Churchill wins a third consecutive region title, the Bulldogs will face the winner of Dulaney and Old Mill in the state semifinals on Nov. 5 at Paint Branch High School.
An opportunity made possible by Monday's double-overtime victory over Wootton.
"I was really, really tired," Sperling said. "I don't want my last game to be on my (home) field. There were 2 minutes left, I had to keep pushing. I would rather be in pain than lose."