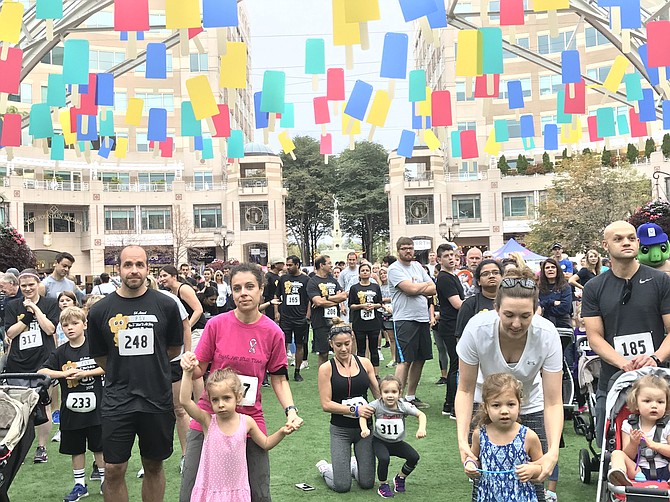 On Saturday, Sept. 28, the nonprofit medical group practice, Pediatric Specialists of Virginia (PSV) located in Fairfax, held its 5th annual 5K & Family Health Fair: Race To Make It All Better, at Reston Town Center, attracting a reported 334 participants and 32 teams. By Monday, Sept. 30, $43,874 showed as raised according to firstgiving.com benefitting Pediatric Specialists of Virginia. Top Team, Team Thaitan, named after Thaitan Vinyoopongphan diagnosed with Neuroblastoma Stage 4 Cancer since May 2018, raised $4,010.
The specialists at Pediatric Specialists of Virginia care for children from Northern Virginia and surrounding areas during their hospital stays at Children's National and Inova Children's Hospital and throughout their childhood on an ongoing, outpatient basis. Proceeds from PSV's yearly fundraiser, its charity 5K and Health Fair, support its philanthropic mission "to provide superb pediatric specialty care to children of Northern Virginia, including children and families dealing with serious or chronic illnesses, experiencing hardship."
Christopher Lawlor, MD, Medical Director of Cancer and Blood Disorders, works at the Fairfax office. As Chair of the Pediatric Specialists of Virginia Philanthropy Committee, he looked forward to the opportunity to participate. "Proceeds from the event go to direct patient care as well as research, education and innovations. We have charity care for patients who have limited resources. We care for tens of thousands each year, from infancy to twenty-one with some patients continuing after that," he said.
NEAR THE START line, nine-year-old Matteo Lambert of Vienna sat on a bench with his dad, Brandon. He wore a blue and red cape with the image of a boy from Alexandria on it; someone Matteo Lambert did not know personally, but understood was fighting cancer. Matteo Lambert said, "I run because I want to help other people, and it's fun." Matteo added he remained committed to his original goal of running 32 5K races in 2019 to raise awareness for children with cancer and Hopecam, his charity passion. The 5th annual 5K & Family Health Fair: Race To Make It All Better at Reston Town Center would be the 28th race he'd run to benefit Hopecam, whose mission is to overcome the social isolation experienced by children in treatment for cancer.
According to Matteo, his father introduced to him a co-worker of his, Len Forkas, founder of the nonprofit organization, Hopecam. Matteo Lambert explained, "Hopecam helps (seriously ill) kids by connecting them with their classmates using a computer or iPad. The kids are going through some tough stuff."
Near the Lamberts, many parents and children mingled, feeling the camaraderie and fellowship. Lizbeth Molina, who works in Pediatric Specialists of Virginia's Fairfax office, said, "Seeing what the practice is doing for the children is awesome." Lauren Lipchak of Reston recognized not only what Pediatric Specialists of Virginia did for her sister but also what it offered her parents. "My sister has cystic fibrosis, and when she was younger, she spent much time in the hospital. It was important to my parents how much support they received, and different organizations made a difference," she said.
The Swingle family of Springfield, Andrew, 11, Joseph, 6, and mom, Vivian understood first-hand. Joseph said, "We run for diabetes because my brother goes to PSV for his endocrinology care."
For brother Andrew Swingle, though, competition and record-breaking drove him to the event. "I want to break a nine-minute mile."
Peter Batista of Oakton said he chose to run because he interpreted at Pediatric Specialists of Virginia, and they provided "great care."
With the race set to kick off at 8:30 a.m., participants visited the health booths, bid on auction items via the PSV Silent Auction website and enjoyed the music courtesy of guest emcee, DJ Chris Styles. Following introductions, words of thanks to sponsors such as Platinum Sponsor AbbVie, Golden Sponsors Novo Nordisk and Alliance and others, and a brief warm-up, racers assembled at the start line.
LIKE SO MANY OTHER CHARITY RACES, the mood appeared light with a feeling of fellowship. Among the hundreds of racers running for Pediatric Specialists of Virginia, Mateo Lambert waited quietly, joined by Joseph Dagbe, 17, of South Lakes High School. Dagbe said he came to race to run beside Matteo because he "is an inspiration to me."
Virginia Del. Ken Plum (D-36) also found Mateo Lambert. "Always glad to be with you, young man," said Plum. Not to worry, Mateo said. He explained he got his superpowers from the super kid whose image was on his cape.
As the horn blasted, racers took off, and a short time later Matteo Lambert, 9, of Vienna crossed the finish line. He placed 9th overall and 1st in his age group, chip time 28:02.1. Lambert said he would mail his award medal and cape to Lucas; they belonged to Lucas as he gave Mateo the power to run.
James Casey, 39 of Fairfax Station placed 1st, chip time 22:12.6. After the race, asked why he ran, Casey replied, "I had a daughter born at 24 weeks. Pediatrics was important to me because of my daughter."