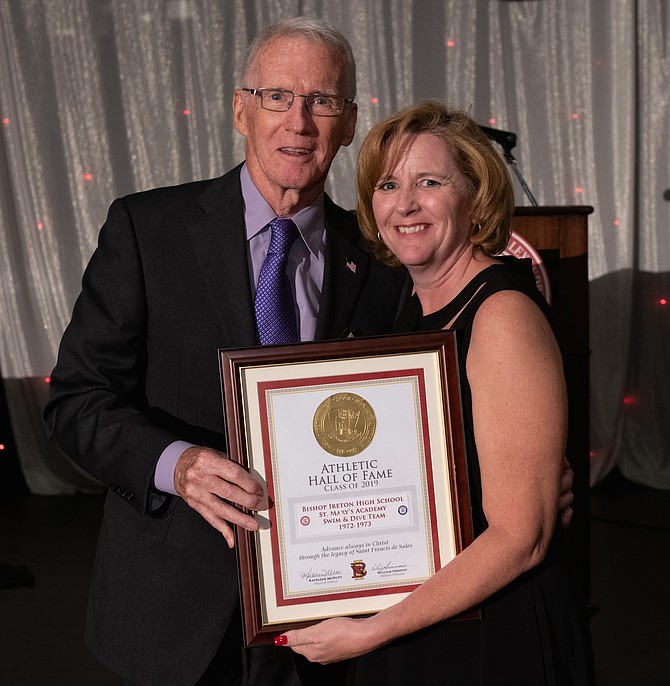 Bishop Ireton High School held its Athletic Hall of Fame induction ceremony Oct. 4 at the Carlyle Club, recognizing four individuals and one championship team for athletic excellence.
"We're so proud to recognize the outstanding athletic achievement of all our inductees," said Head of School Kathleen McNutt. "These honorees exemplify the highest standards of positive sportsmanship and ethical conduct. Their character is an embodiment of that which St. Francis de Sales preached: 'Be who you are and be that well.'"
Joining the ranks of athletic elite were Dan Cloyd (BI '75), David Damiani (BI '86) Garwood Whaley III (BI '86) and Kristin Kelleher Endress (BI '08). The 1972-73 Bishop Ireton High School/St. Mary's Academy Swim & Dive Team were inducted as a team into the Athletic Hall of Fame, joining just over 40 individuals and one team previously honored.
Cloyd, a four-year member of the Varsity Swimming Team, specialized in distance freestyle and was a high school swimming All-American. He graduated from the U.S. Naval Academy and went on to serve in the Navy for more than 36 years, retiring as a Rear Admiral.
Damiani was a star player on Bishop Ireton's soccer team. He won multiple Catholic State Championships, Metro League Championships and Bolingbrook Invitational Championships. He was selected as a Parade Magazine All-American Soccer Player, a two-time First Team Washington Post All-Met Soccer Player and a two-time Alexandria Sportsman of the Year in Soccer. Damiani attended the University of Virginia and starred on the school's NCAA Championship soccer team in 1989.
Whaley played lacrosse and soccer and was a member of the wrestling team during his high school career, earning varsity letters in each sport. He was named to the Washington Post's first ever All-Met Lacrosse team, the WALL (Washington Area Lacrosse League) All League Team and the WALL All Stars. In 1986, he was named Alexandria Sportsman's Club Player of the Year and was the team's MVP. Upon graduation from Bishop Ireton, Whaley played lacrosse for the University of New Hampshire for two years before transferring to Hampden-Sydney College, where he played lacrosse and was captain of the soccer team.
Kelleher Endress was a four-year member of the Varsity Softball Team and served as the team's captain her senior year. During her Bishop Ireton career, she threw six no-hitters, a perfect game, set the school record for strikeouts in one game (17) and posted a career .455 batting average. Kelleher Endress was named to the All-State 1st Team in 2007 and 2008 and earned 1st Team All WCAC honors in 2006, 2007 and 2008. Kelleher Endress played Division I collegiate softball for the Charleston Southern University Buccaneers in Charleston, S.C., from 2008-2012. In 2012, she was honored as the Charleston Southern University Woman of the Year.
The 1972-73 Bishop Ireton High School/St. Mary's Academy Swim & Dive Team entered the 1972-1973 season under the coaching of Harry Sober, Fr. Al Smith and diving coach BJ Hendrickson. The team was composed of 27 Bishop Ireton athletes and 20 St. Mary's Academy athletes and was combined as a single co-ed team to compete in and ultimately capture two separate league championships: the Washington Metropolitan Independent High School Swim League and the Northern Virginia High School Swimming League, Division III. In dual meet competition, the combined team was 13-0. The St. Mary's Academy part of the team also competed against and defeated two NCAA Women's teams, East Carolina University and American University. The combined team also had 10 swimmers ranked as High School All-Americans.